. . . plus download a great free motorcycle checklist for your next adventure.
Planning for and adventure motorcycle camping trip, takes a little preparation, but is well worth the effort, for the experience you will receive in return. So getting a good grasp on what you need and how to plan for your next, or first, ADV motorcycle adventure is very useful to some riders who have yet to venture on multi-day trips. so we hope this info is informative and helpful to make you motorcycle camping trip a wonderful experience.
Well, adventure motorcycle riding is getting off the highways and exploring the less traveled back roads. For many the more remote and backroads and trails makes it all the more appealing. This obviously means hitting some dirt roads, even trails and of course, some challenges along the way to your camp. So when traveling adventure style on your motorcycle, you need to be smart, efficient, light and practical. Motorcycle camping is more on the basic side and definitely not glamping– if you don't know what glamping is – please google it. : )
I like to think of adventure motorcycle traveling like backpacking on your motorcycle. The objective when backpacking is to keep things ultra light, so you can obviously carry more, go further, be less fatigued. This is similar with motorcycle camping too, but you do have an iron horse to carry your kit so you can be a little more liberal with your kit, or what you take on your trip. So with all things in life, balance is key. You may not want to spend an additional $150 on your tent to save an ounce. But I do keep things as light as possible while not going to the extreme. For example, I used to use a self inflating sleeping pad in my hammock tent – it was one of cheapest ones and was not that small rolled up. After a few trips, I decided a non self-inflating pad was much better choice- rolls up to size of large grapefruit and is about third the size of old one.
So here are some basics to consider before heading out on your bike. It is also useful to download or PDF "Pack List" which is a comprehensive pack list specifically for Adventure and overland motorcycle travelers. There just may be a few items, you wish you would have thought of and put in your MC travel kit.
You need to be prepared so here are the 7 segments in which I break my packing down.
Motorcycle Kit:
This includes everything from your jacket, gloves and helmet to your wrenches and sockets to do basic repairs on the side of the road.
Electronics Kit:
This means your GPS, with route loaded, if you roll that way, Your bluetooth headset and smart phone – you know you need tunes at some point. , camera equipment, if you like to take pics, and not just selfies with your phone.
Cooking and Food:
On the pavement you can eat out at your favorite eateries. But once to backroads and camp, you will need to be prepared and have the food, snacks, cookware one needs to eat well. Depending on how many of you are riding together or if solo venture, this will help figure out what you need, with a small group you can consolidate and  use economy of scale and share the food hauling and chores. We want you to enjoy your experience with a full belly especially if hiking around camp or mountains.
Personal:
This segment includes personal hygiene, toiletries, lightweight clothes– always think layers, and other personal items you may need when on your journey. Some things such as your headlamp, bug spray are key for enjoyable experience.
Camp Kit: 
Personally I think the best choice for Adventure riders is to pack like you are going on a a multi-day hike- light compact quality gear. (doesn't mean expensive) a hammock tent, in my opinion is the best and I've had a lot. Well my popup is a little nicer but a pain to pull with my Yamaha, : )  an inflatable sleeping pad, sleeping bag, cook set and utensils. JetBoil or similar stove with fuel, and of course food and beer. * whiskey if its cold . . . ahhh who am I kidding, whiskey in any weather! I bring an ultralight camp chair too – love it – see review here. 
Miscellaneous Additional Gear:
This section depends on individual needs and things you will be doing on your trip. Some thing in my Miscellaneous section are secret money stash, a book, notepad and pen, etc. But you can fill in this section with your individual gear.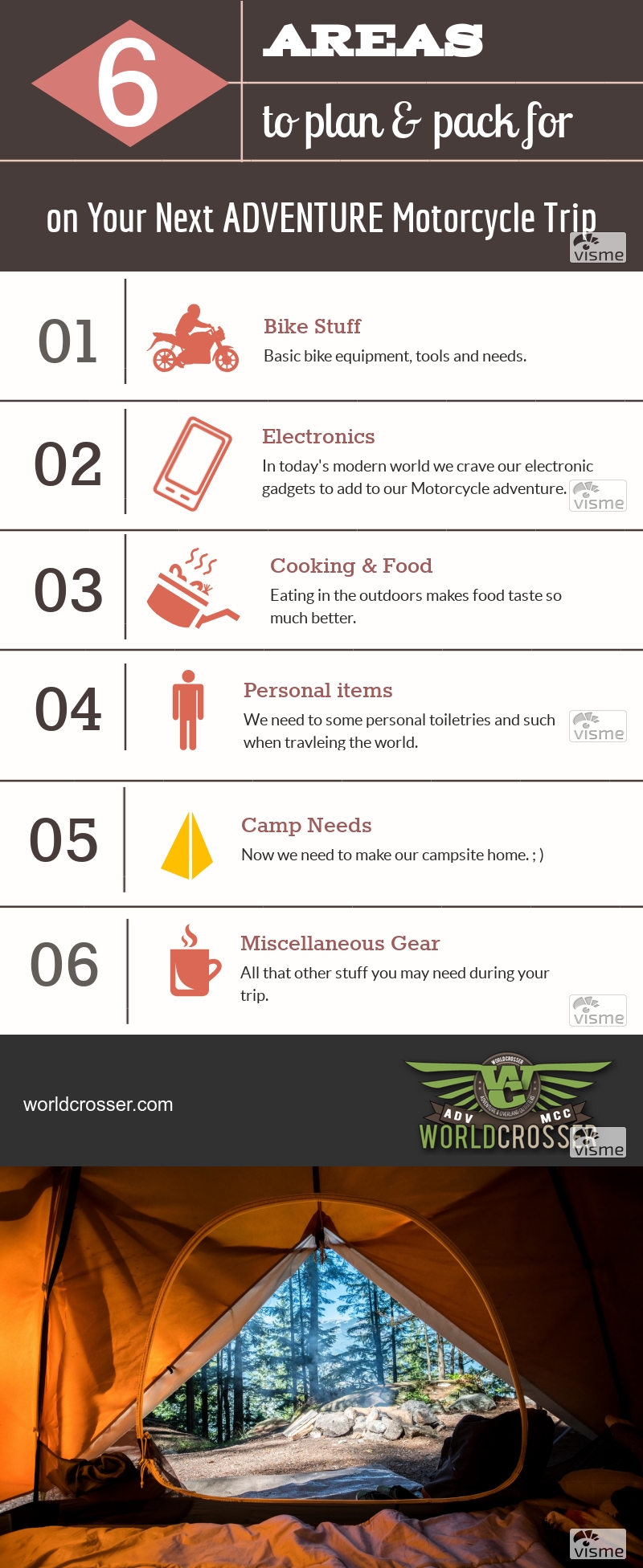 Remember to pack for the weather/season, even on questionable temperature days, I throw my heated vest in my kit. As I rather have it and not use it then be freezing and not enjoy my ride. Please take a look at my motorcycle camping checklist and see if you have anything that you would add or edit — please make sure you let me know in comments below so I can improve on my checklist.