Bluetooth for Adventure Motorcycle riding is becoming standard.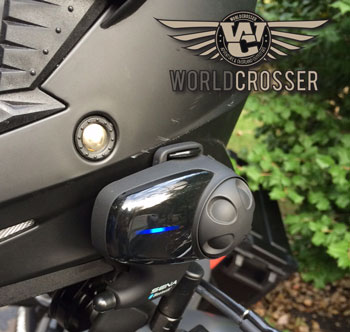 So you want to listen to Pandora, and talk to you friends while riding, oh not to mention voice navigation for Waze or whichever GPS app you fancy on your iPhone or Android. Well you are in need of a bluetooth headset for your helmet and today we are discussing the Sena SMH10.
This bluetooth helmet headset installs with a bracket or with an adhesive mount, both worked very well it just depends on the thickness of your helmet. It links up easy with your phone or other Bluetooth device by pressing the two buttons simultaneously.  I am amazed at how long this device can hold a charge, it is wonderful in that respect. Also,you can always plug it in and charge while riding your bike, assuming you have a power outlet on your bike. I never have had the need since this device holds a charge so well, but I still keep my cable handy for the day I just may need it.
It has good sound, although I do wish it could go a little louder. Talking back and forth with your buddies works well too. The one downside to the SMH10 is that if you are listening to music and connected to a friend, the music stops and friend talks, it is not smooth transition or overlay from one to the other. You almost need to decide if you want to talk or listen to music. Sena recognized this limitation and have put a fix in the 20S model. For me this is not worth additional $100 for this feature but for some it may be worth the extra cash.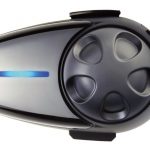 Couple tips:
Use the foam pads to bring speakers closer to your ears
When you first get it it is wise to charge fully and then let go all the way down, then do the same thing again. Maybe this is why mine holds a charge so long.
Make sure your headset is running the latest firmware – Click here to see latest version available from Sena. I have heard of people having issues with other models, but these were older ones when technology was not as good. But overall I highly recommend this unit and use it all the time.
Be careful of which one you buy! I wish Sena's site or resellers would explain a simple difference between two unique models of the same model number – SMH10 – One has boom type mic that is connected to unit itself – this is used for open face helmets. the other one goes inside the helmet and is for Full face helmets. I know one person who bought the wrong one. It should be better defined on their packaging as it is easy to over look. Take a look at pics below to see what I'm talking about and make sure you get correct one for your helmet.
The Sena SMH10 is good companion for Adventure motorcycle riders as it does it's job very well. For the price point I think it is fair, there are cheaper products out there but not sure if quality is the same. As technology improves maybe there will be better alternative at this price point but for now I think this is best bang fo your buck. With that said, if money is a non-issue I may suggest or opt for the SMH20, but this post is about the SMH10 and it is a good value and product for Adventure riders.
If you think you may be in the market for this helmet headset, please be so kind as to support WorldCrosser by clicking through Amazon banner below to check out the product.  It does not cost you a penny more if you click through, but can help us continue to provide reviews like this one.
<iframe style="width:120px;height:240px;" marginwidth="0" marginheight="0" scrolling="no" frameborder="0" src="//ws-na.amazon-adsystem.com/widgets/q?ServiceVersion=20070822&OneJS=1&Operation=GetAdHtml&MarketPlace=US&source=ss&ref=as_ss_li_til&ad_type=product_link&tracking_id=worldc05a-20&marketplace=amazon&region=US&placement=B0087NB088&asins=B0087NB088&linkId=4f608ed1f86d6fc11be79044c9a3d9c8&show_border=true&link_opens_in_new_window=true"></iframe><!-- [et_pb_line_break_holder] --><!-- [et_pb_line_break_holder] --><iframe style="width:120px;height:240px;" marginwidth="0" marginheight="0" scrolling="no" frameborder="0" src="//ws-na.amazon-adsystem.com/widgets/q?ServiceVersion=20070822&OneJS=1&Operation=GetAdHtml&MarketPlace=US&source=ss&ref=as_ss_li_til&ad_type=product_link&tracking_id=worldc05a-20&marketplace=amazon&region=US&placement=B00KJGPN2K&asins=B00KJGPN2K&linkId=050985a693c61a1b76732f5be81e86aa&show_border=true&link_opens_in_new_window=true"></iframe><!-- [et_pb_line_break_holder] --><!-- [et_pb_line_break_holder] --><iframe style="width:120px;height:240px;" marginwidth="0" marginheight="0" scrolling="no" frameborder="0" src="//ws-na.amazon-adsystem.com/widgets/q?ServiceVersion=20070822&OneJS=1&Operation=GetAdHtml&MarketPlace=US&source=ss&ref=as_ss_li_til&ad_type=product_link&tracking_id=worldc05a-20&marketplace=amazon&region=US&placement=B00BTSFN54&asins=B00BTSFN54&linkId=4d6dbf26a92799e7e6eac19e530505d4&show_border=true&link_opens_in_new_window=true"></iframe><!-- [et_pb_line_break_holder] --><!-- [et_pb_line_break_holder] --><iframe style="width:120px;height:240px;" marginwidth="0" marginheight="0" scrolling="no" frameborder="0" src="//ws-na.amazon-adsystem.com/widgets/q?ServiceVersion=20070822&OneJS=1&Operation=GetAdHtml&MarketPlace=US&source=ss&ref=as_ss_li_til&ad_type=product_link&tracking_id=worldc05a-20&marketplace=amazon&region=US&placement=B00SHW5QCU&asins=B00SHW5QCU&linkId=b7ce37cc16fdad7c8a9ac08b5d7b2bd8&show_border=true&link_opens_in_new_window=true"></iframe>