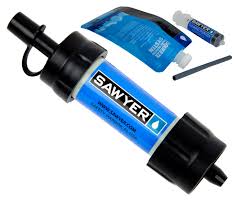 So you are looking for the perfect water filter for you overlanding or adventure motorcycle riding exploration. There are many filters out there ranging in price from very cheap to very expensive. If you are doing couple day or week long adventures you may be in the market for a personal small water filter. You have a couple choices here but the two to that most gravitate towards:
The Sawyer Mini Filter or the LifeStraw Personal
The Sawyer Mini Filter
This unit is rated very high by many users all over the internet. In short, people just love it, it can filter over 100,000 gallons and come with a plunger for backwashing it. It is small, light and compact, it costs around $20 and you can even pick it up at Walmart. The package contains 16-oz squeeze pouch, drinking straw and cleaning plunger. Comes is  number of cool colors and only weighs in at 2oz, but after you use it for the first time, it will have water in it increasing the actual weight. Packaging states it can filter 100,000 gallons of water. More details on the Sawyer Mini Filter.
The Lifestraw Personal
Lifestraw personal was the original, small, chemical free water filter. Lifestraw donates clean water to developing countries through a program they call "Follow the Liters". It also weighs in at 2 oz dry and filters up to 1000 liters
The Lifestraw is the original but it is larger and the specs seem to give the Sawyer Mini Filter a leg up on the Lifestraw. But this could be just marketing, as it should be duly noted that there are claims that are considered  over the top marketing, and at one point Sawyer changed their marketing from claiming the device is good for 1,000,000 uses to 100,000 — but either is plenty for a $25 product. More details about Lifestraw Personal.
Most of the time when I am traveling on my bike, I can get fresh water from a gas station, store, campground where ever, but I have run out of water or didn't 100% trust the source. So I always keep a water filter as part of my travel kit. I personally use a filter on all my primitive camping outing which is real camping in my opinion. LOL!
In conclusion, both are great affordable products and take away the need for chemical and the need to carry large purifying systems. You won't go wrong with either one, but I think the Sawyer has a leg up due to it's size and ability to connect to any standard water bottle. It is simple to use and convenient.
Let us know which water filter you use and if you are not already remember to sign up for our newsletter, it will keep you up to date with great content and helpful info that will keep your overlanding the best it can be.