Let's start out by saying it is awesome to have your phone on your bike, and in a spot that you can see it easily. The RAM mount does the job and does it well. I wouldn't trust some other phone mounts I have seen. They look cheap and if you ride like me a little bump may send your expensive phone flying. Your phone onyour bike is almost a must have in today's connected world. Some may disagree and say they want to be removed from the "connected" world while riding- I understand! But sometimes reality of the day and expectiation you need your phone while riding. Anyway that is a topic for another post – but for now having your phone on your bike -> The RAM mount is where it's at, along with a bluetooth headset for your helmet. (See Sena bluetooth headset post).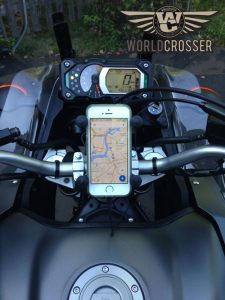 There are lots of configurations for the RAM product line there is even a cup holder and a handgun mount you can get.  But for your adventure motorcycle basic iPhone mount setup you want a few parts:
Need to mount the ball to the handle bars with U-Bolt Mounting Base with 1 inch ball.
Then you need the "Double Socket" connector, that supports the 1″ ball on both sides, this can be purchased in a few different sizes – short, long, and I think there maybe a medium.
Finally you need the X-Grip Cell phone holder with 1″ ball, you can get larger ones for the larger iPhones 6 and maybe the ipad mini.
It is not only great to be able to talk on the phone while riding, it is also great to be able to see your phone for navigation (and hear Voice Navigation too), see your playlist as you are listening to some great music all the while having it right there in front of you.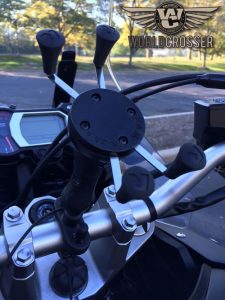 If you are considering a quality RAM Motorcycle mount for your adventure bike, please support WorldCrosser by clicking through this Amazon link, it will give us a little coin and not cost you a dime extra.
Thanks for reading and ride safe!
---
[product_category category="motorcycle-mounts"]