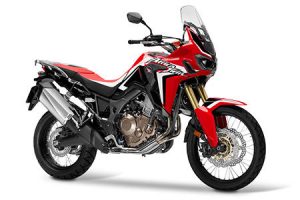 So Honda has released their new 4 stroke, 1000cc adventure motorcycle, the Africa Twin CRF1000L and let me tell you the specs and the pics just look like a dream. I can't wait to throw a leg over one.
Couple things that are immediately apparent, it appears to be a narrow bike, has high ground clearance, high handle bars and has a 21″ front wheel– a few great aspects for the dirt roads and trail riding, which is important if you actually take your "adventure" bike off the asphalt.
There are two versions going to be available, the Standard and the DCT (dual clutch transmission) versions. The Standard sports the regular transmission we all have come to know and use, but the DCT is a new type of automatic transmission, that changes the gears for you. Supposedly you can even use the manual paddle shifter with the DCT. Also note that this is a whole new way of automatic transmissions for motorcycles, it is pressured by hydraulic oil and it supposedly better than snowmobile type of CVT automatic transmissions. Ohh it is another $600 for DCT if you are interested, plus I think it comes with gold wheels. ; ) The front and rear suspension are adjustable for spring preload, compression, and rebound damping. The shock offers a hydraulic-preload knob accessible on the right side of the bike.
The Africa Twin comes standard with ABS and traction control or HSTC (Honda Selectable Torque Control) it has steering lock and also a steel frame which helps keeps this bike slimmer and more dirt oriented
There are two colors available in USA, the Dakar Rally (red and white), Digital Metallic Silver
See specs in Worldcrosser ADV Bike database and also here is a link to Honda's page here.
This bike is extremely promising and just like many others out there I can't wait to ride one!
But while we are all waiting to ride one- we can do a little VR (that's virtual reality) with Honda's Africa Twin VR mobile app- they have it for Apple's iOS and Google's Andriod.