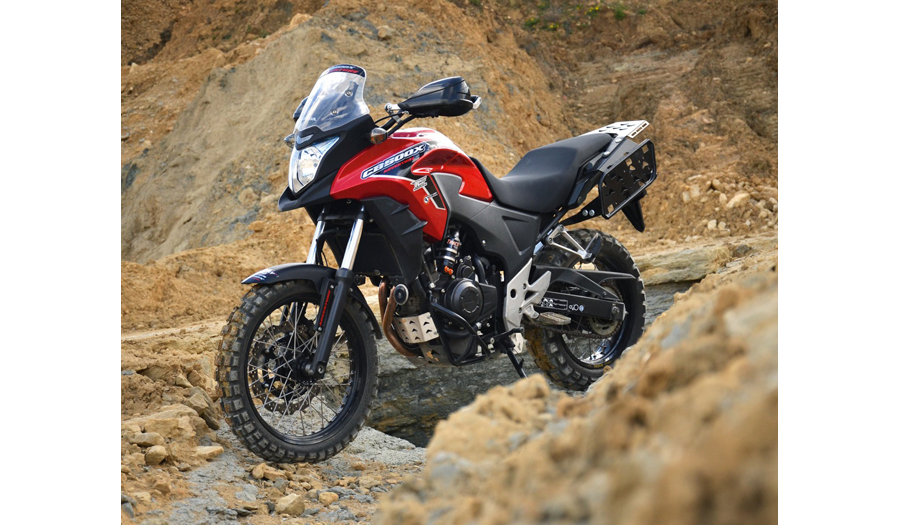 A small dual-sport bike like a 200 or 250cc would will make an all around great learning bike. They are light, nimble and easy to ride, as well as, the smaller displacement bikes are great for riding single track trails and/or rough terrain where a light nimble bike is key.  Read more here about some great adventure bikes to learn on. But it appears most ADV riders are looking for an "Adventure" bike that is a little bigger than a 200cc and have plans for more dual purpose exploration in mind, not simply a bike to learn to ride on, but a bike tthat can handle the asphalt and the dirt roads well, a adv bike they can grow into and enjoy for many years to come.
After watching Long Way Down or being slapped by big manufacturers marketing departments, many people conjure up and an image of a big adventure bike, like a BMW GS1200 Adventure motorcycle with hard panniers and a bunch of luggage strapped to it, traversing the jungle or world as an image of what they want in their mind. Now these are incredible machines that have a place,  but budget and practicality usually kick in and some realize a 600 pound beast is not the best all around bike, nor the cheapest for them. Again, the big adventure bikes have their place, don't get me wrong, they are not always the best bet for the masses, especially when first getting into adventure riding and looking for entry level adventure bike.
Riding a 250cc on and extended long tarmac stretch is not ideal and riders will quickly require a little more power and getting your feet wet with a big 600 pound 1200cc expensive bike is not always practical either. But don't worry there are many bikes right in that sweet spot, that will let you ride trails, dirt roads and also cruise some asphalt comfortably. So that leaves us with the masses, Mid-sized Adventure Bikes and Dual-Sport motorcycles that are relatively affordable and are also are great bikes to learn how to adventure ride and travel on. So that's what we are looking for in this Entry Level Adventure Motorcycle post, a versatile all-around entry level adventure bike, something in between the light 250 and the heavy 1200 and also reasonably priced.
Here is a list of bikes we feel are great choices for the entry level beginner adventure rider, who have been bitten by the adventure motorcycle bug. So in short, we are leaving our 250cc and 1200cc class adventure bikes out of this post. We will evaluate those classes of ADV bikes down the road.
The best ADV or dual sport bike for you may be different than for another person, depending on your size, type of riding you want to do, as well as price, comfort and other personal variable. It is best to throw a leg over one you think fits your needs and test ride it and see what feels right for you.
Prices stated are MSRP "starting at" price for a new bike.
So without further ado:
Honda CB500x Adventure – Starting at $6299
The CB500x Adventure is new but he CB500 has been around since the 70's, a 500 is a good size bike, the seat height is a good for new riders.
Here are specs for CB500X Adventure.
---
Suzuki DR-Z400S – Starting at $6599
Another great Suzuki, a little lighter and more dirt oriented then the DR650, it is a little taller, so higher center of gravity, but a great bike that is light and fun and easy to ride.
Here are specs for DR400.
---
Kawasaki KLR 650 – Starting at $6149
The KLR has one of the biggest fan-followings and there is a reason why, it is an overall great bike. it doesn't do any one thing spectacular, but what is does do – it is a lot of everything very very well. It is a a bit of a tank and an overall great bike in general and perfect for new adventure riders.
Here are specs for KLR650.
---
Honda NC700X  – Starting at $7499
This bike is more geared toward the asphalt and it is a Honda so you know it will be a great reliable scoot. It is simple to ride – it comes as an automatic or Honda calls it DCT – (dual clutch transmission) It is a great all around motorcycle and you will be happy to throw a leg over this Honda.
Here are specs for NC700X.
---
BMW G650GS or BMW Sertão – Starting at $7895
We really couldn't discuss Adventure bikes without having BMW in the mix, these are both great beginner bikes, they have a low center of gravity and just ride very smooth and make riding seam so comfortable. Although you do pay a little extra for the BMW bragging rights. Here are specs for BMW 650.
---
Suzuki V-Strom 650 XT – Starting at $10399
Suzuki really makes a great bikes for a great prices and their bikes are great mechanically as well. The V-strom is no different – it is geared more toward asphalt and gravel roads, compared to it's DR650 cousin, this bike also has low seat height and ride really really nice. Here are specs for V-Strom 650.
---
Kawasaki Versys 650 – Starting at $7,999
This Kawasaki is often overlooked and not given enough credit, it is an all around great entry level bike and I highly recommend it, take one for a test ride and you will realize a great bike. Easy to ride and lot of band for the buck.
Here are specs for Versys 650.
---
Honda XR650L – Starting at $6690
This Honda XR650 has not changed in close to 20 years, but it is a simple but good motorcycle, it will do well in the dirt on gravel roads and even some dirt riding. It is more dirt oriented than the Suzuki DR650. Simply great entry level Adventure/ dual sport motorcycle, especially for taller riders.
Here are specs for XR650L
---
Suzuki DR650SE – Starting at $6499
This is one of my favorite motorcycles, it is reliable, good power, rides well, does great on dual sport rides and also can cruise down the road at a good speed. If you are doing more asphalt put a windscreen on it, it doing more dirt put some knobbies on it. This bike has a relatively low seat height and is easy to ride and a great affordable place to start adventure riding.
Here are specs for DR650.
---
Well there you have it a good list of 9 entry level dual-sport / adventure bikes for the newer dual-sport adventure rider to consider. I recommend hitting your local dealer and throwing a leg over some of these bikes and see for yourself what feels most comfortable for your unique height, weight, comfort and posture. And remember it is very important to be comfortable on your new bike. Here is few thing you can do to get the optimal fit.
Adjust your handlebars.  You can get bar risers that not only move the bars up so better for when you are standing on your footpegs, but also they move bars forward for better comfort as well.
Possibly lower your bike dropping the center of gravity (which makes riding easier) keeps smaller riders comfortable.
Comfortable seat, many rider swap out standard seat for something a little more comfy.
Remember, new riders, please ride within your comfort level when you are getting used to your new adventure or dual sport motorcycle, don't take chances, be safe and, of course, have fun!!!
---