Michelin announced the release of their new Anakee Wild radial motorcycle tires. They are radial tires meant for 50/50 use (on-road/off-road) on adventure and big dual sport motorcycles.
The all-new compounds and innovative tread pattern are inspired by Michelin's Desert Race tires. Offset blocks and curved tread grooves provide off-road performance improvements, especially in soft and challenging conditions. The front/rear casing design provides improved on-road stability as well.
MICHELIN Anakee Wild offers exceptional durability and road/off-road resistance thanks to radial technology and optimized tire thread depth. Tried and tested in extreme road conditions!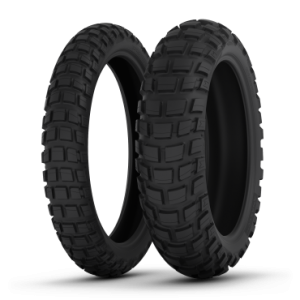 Stability and comfort on the road thanks to radial technology available for the first time on a knobby tire. Excellent longevity and resistance against heating and aggression thanks to its optimized tread pattern's depth and new tread compound
The Anakee Wild tires will be available from Michelin dealers starting on 1 March 2016 and are available in sizes below:
Available 50/50 Adv Tire sizes for Anakee Wild: