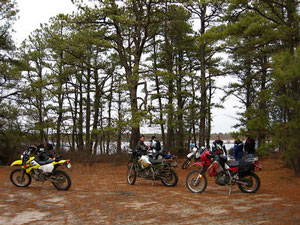 In the most congested state there is is still an area the has not been developed and is great for dual sport and adventure motorcycle the Pinelands. Also know a the Pine Barrens. There are a few state parks that encompass the Pinelands, the largest is Wharton state park, there are plenty of fire roads and dirt roads throughout the pine barrens, plenty of stream crossings and lots of large puddles, unless it hasn't rained in a while. A couple cool place to check out are Apple Pie Hill – a forest ranger tower that on a clear day you can see Philly and Atlantic City. Batsto village an old glass making town or village that has a great lake , visitors center etc, also ride along the mullica- some great roads there, Atsion Lake and Goshen Pond are a few more areas to explore. There are so many roads and trails that you could spend weeks going through it all and still find cool places to ride.
There are trails for all type of adventure riders, there is a lot of single track, although rumor is Hiking club is trying to stop all single track riding, there are some nice "quad size trails", say double track, these are my favorite, and of course there are dirt roads that are not inundated with sand that the big Adv bikes will love. So bike choice, small dual sport, 250cc-400cc for single track, KLR or DR 650-ish bikes for medium trails and sandy forest roads are perfect, and big bikes are best on the forest roads and some packed trails/roads. Okay, Okay, I hear you yelling, now there is always the exception, where you can ride your big bike down a single track that is a blast and fun but that is the exception not the general rule when riding the Pines. There are literally hundreds and hundreds of miles to ride and explore in the Pines, and there it would take a number of days to see just get the highlights. Always a nice serene place to ride, that I ride often.
Couple tips when riding in the Pines:
Make sure you are running low pressure and knobbies as there is a ton of sand, but it is a great time.
If you stop for lunch our in the bush- bring bug spray they grow mosquitos big in NJ
Always ride with a buddy
Plan you ride, ride you plan (I know that goes against the adventure spirit)
Let a loved one know where you are planning to go.
Bring your GPS, as cell service works but it's not very strong
Remember some areas of the Pines cell service is limited or nonexistent
There can be some deep and big puddles, be careful
Watch out for the Jersey devil!
And after it rains there are some serious puddles!
[message type="Be Warned"]Supposedly Rangers are cracking down on single track riding in the Pines, and they have released a "Motorized Access Plan"  or MAP for roads that one can be one. Here is Wharton State park's "MAP" Map that shows legal roads for motor Vehicles.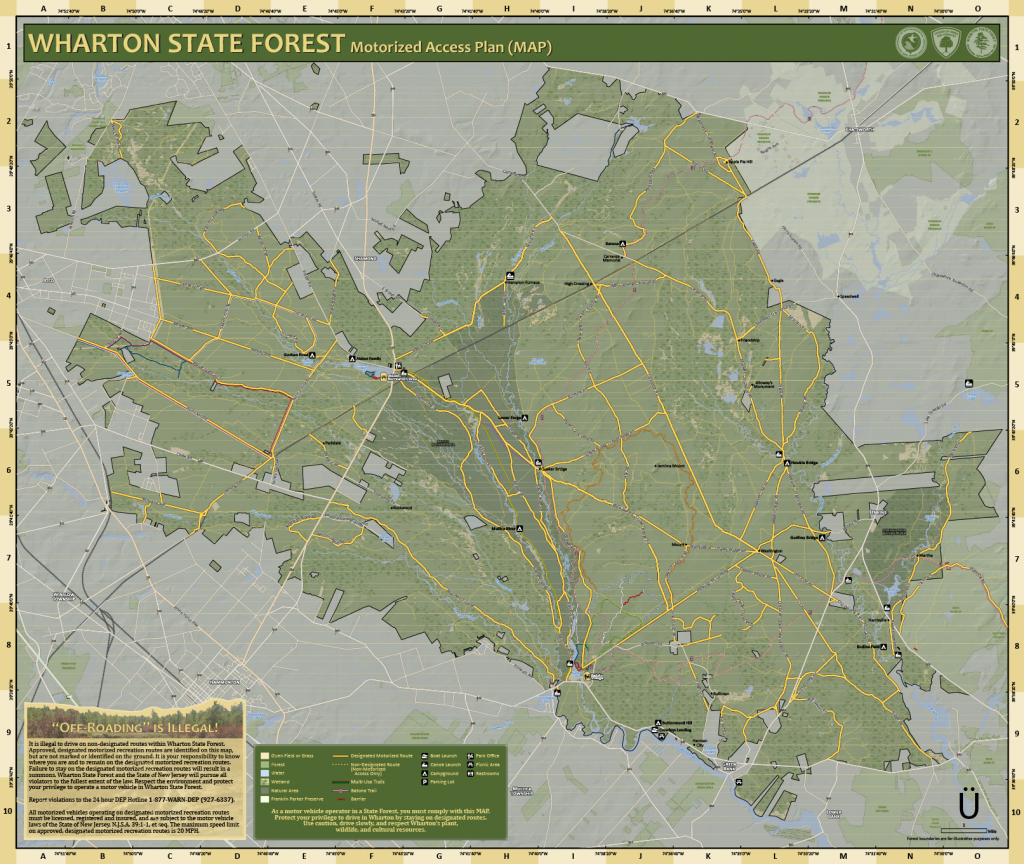 Click on Wharton State Forest map to see larger version or see original on NJ website here.
Get your very own NJ ADV Pine Barrens Sticker – click the image below: