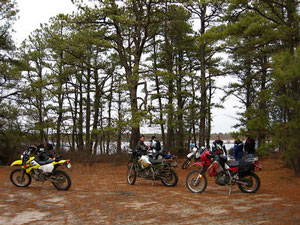 It is great to ride motorcycles with your like minded group of friends, for not only companionship but also for safety reasons. If a motorcycle breaks down or if person hurts themselves, having a buddy will really come in handy. If you don't have a steady ADV riding group, finding riding buddies shouldn't be too difficult. Riding the local trails and fire roads, state parks, and other cool roads usually get the ball rolling. So one of the best things to do is simply invest some saddle time and get out on your bike and ride, you are sure to have another enthusiast start chatting when you are fueling up, taking a lunch break or making a stop. My opinion is that the ADV/dual sport riders are simply an amazing quality group of great people.
But just in case that isn't panning out, here are a few other ideas for finding riding buddies:
A top suggestion would be advrider.com and go into your geographic forum. Riders are always posting rides and would be happy to have you along. Make sure to read the post or ask what type of riding they are doing– as you don't want to be taking your 1200 beast down single track with some light agile small cc KTM's, or vice versa.
Another is checking meetup.com for riders and "meet ups" in your area for dual sport or adventure riders
Going to adventure or overland events or meets are also a great idea. Like horizonsunlimited.com or overlandexpo.com to name a couple.
Check out our WorldCrosser event calendar for adventure and dual sport rides and events that you may want to attend.
Check out social networks like Facebook for adventure motorcycle riding groups, join a group that is built around your bike – like the KLR 650 for example.
Speak with your local dealership for events, rides, manufacture days.
Register for a motorcycling training course, obviously an off-road or "adventure" centric course like PSSOR.
Go on an organized professional adventure riding tour you will be sure to meet some like minded individuals, but some of these tours can cost a lot of money. i.e. RawHyde, RideADV, and Ayres Adventures to name a few.
If you are riding more off road dual sport type of riding, which can fade into adventure riding at times, a great place to start are enduros and hare scrambles. Check AMA, American Motorcycle Association, site for many of these sanctioned events. Remember these are dual sport rides, so be prepared with light nimble bike and motocross gear, no big GS1200 and flip flops. ; )
Hope this is helpful advice and you find a good group to ride with on regular basis. Also WorldCrosser has a number of members that ride together here in NJ and will be integrating clubs into our site, in terms of forum or social app aspect down the road- still in beta.   Anyway, sign up as WC member on our site and be part of the inception of this club aspect that will bring ADV riders together!
Enjoy, and as always, ride safe and have fun out there!