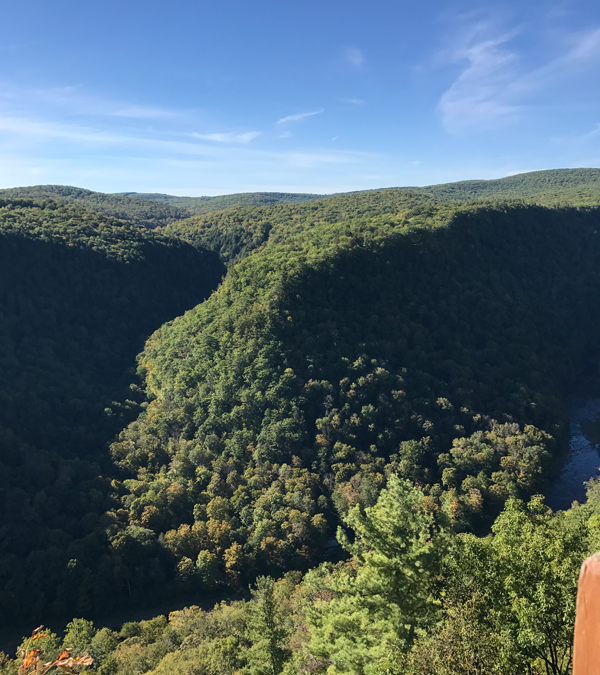 The PA Grand Canyon is an incredible location to ride your motorcycle– no matter what type of bike you ride. On a nice day riders are everywhere, because the roads, trails and scenery in this area of Pennsylvania are awesome for motorcycles. Whether a dual sport, big adventure bikes or even sport bikes and cruisers.  I recently rode a ADV bike up there. It was a full day of riding to get there from my house in New Jersey and when I arrived you could hardly find a spot in either of the two relatively large designated motorcycle parking areas. Both areas were packed full of bikes– all types. There must have been 75 bikes there if not more.  The majority were cruisers but there were also adventure motorcycles, dual sports and the one that really caught my eye was a cool traveling scooter with traveling soft bags and the whole package. Looked like they were doing some serious cross country travel on the scooter. It is called the PA Grand Canyon by all and the souvenirs and shirts, all tout "PA Grand Canyon" as well, but technically it is the Pine Creek Gorge. And it is beautiful. There are two sides to the Gorge and each is a separate Pennsylvania State Park and, if you are into hiking like I am, the Turkey Trail connects the two parks together. Please note, if hiking the Turkey trail, you will need to cross the Pine creek to hike the whole Turkey trail from one side/park to the other, there is not a bridge and depending on the water table it can be an obstacle.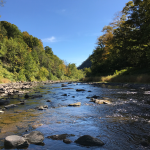 One side of the gorge is the Leonard Harrison State Park and the other is the Colton Point State Park. The Leonard Harrison side is more popular, as it has a visitor center, food truck, camping, bathhouse, ranger station, running water, and some other signs of a popular destination. The Colton Point side is much more subdued, it offers primitive camping and much more remote, although amenities do include pit toilets. ; ) So it depends on what you are after in your visit to the Pine Creek Gorge.
I camped on the Leonard Harrison side and it was a great spot, nice trees to hang my hammock tent, and only about a quarter mile from the trail entrance, lookout point and visitor center into the Gorge, campsites were clean and spacious, and the staff was so nice and friendly, for that matter so was everyone up there, visitors I met, as well as a  local neighbor who sold me some wood for great price. It was a clear night and the stars were amazing up there, so bright and so many, I forgot how unbelievable the night sky can look when you are nowhere near a city and up in that higher altitude. There is cool phone app called Skyview that lets you identify stars, galaxies and constellations. See Skyview App.
The roads are amazing, twisty, and some steep hills that were like roller coasters on the bike. I advise planning a few days there, one for hiking, one for dual sporting and one for riding the wild PA Grand Canyon roads!
There are so many great roads and trails , but one great road in PA Route 6, also 414, and a cool water crossing at (41.573041, -77.335406), and there are just tons of great dual sport dirt roads and trails to ride around all day on. In short, the great roads and awesome tracks all around the area, make it an overall awesome adventure/dual sport location that you should put on your list to ride.
I forgot to take picture of the onslaught of bikes parked up there at the PA Grand Canyon overlook, so if anyone happens to have a pic of all the bikes that are there on a nice day, please be so kind as to send one along for me to post.  (feedback)
Thanks for reading and, as always, ride safe and have fun!